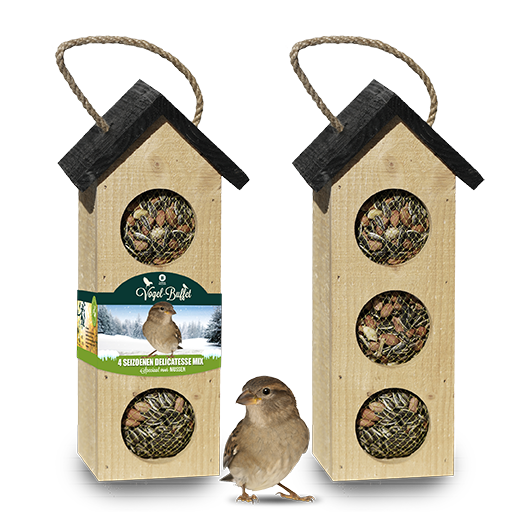 vogel-buffet chalet3
Vogel-Buffet Chalet 3 Sparrows and Blackbirds
Article number 18038523
Packaging format 250mm x 105mm x 90mm (595gram)

The house sparrow:

Everyone knows them, the house sparrows. They are a little bit mischievous and you often see them hopping by, looking for something to eat. Their diet consists mainly of seeds and insects, but they are also not averse to fruits and vegetables. Read some more facts about the sparrow here.

Males have a gray crown with maroon sides.
Males have greyish cheeks and black cone beak (in summer).
Males have a black band that continues on the chest.
Females are more evenly brown and have a light eyebrow line.
Size: 14 – 16 cm.

The "Chalet 3" bird feeder house is handmade from sustainable FSC® wood and even the product label is from sustainably recycled PP5. The "Chalet 3" feeding house can be used standing up or hanging from the robust rope. The nice thing about the collection is that the different mixtures also attract different bird groups!

Nice as a gift or gift set for the garden, balcony or terrace.