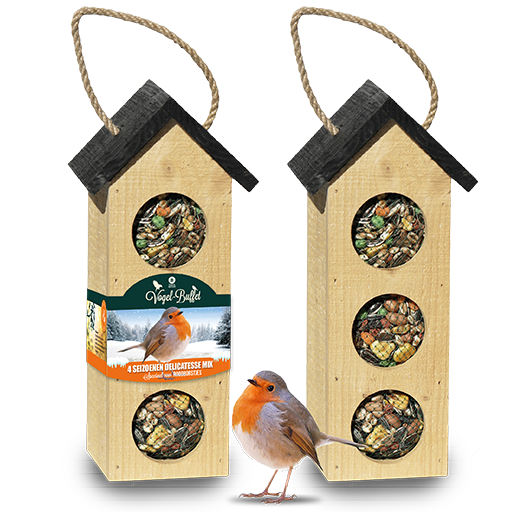 Bird-buffet chalet 3
Bird-Buffet Chalet 3 Robins and Finches
Article number 18038521
Packaging format 250mm x 105mm x 90mm (570gram)

Robins are very smart:

People who regularly work in the vegetable garden are probably familiar with this scene. As soon as you put a shovel in the soil, you'll have the company of a robin in no time. They wait patiently right in front of your feet and in the meantime keep a close eye on everything that comes up with the shovel. They then pick up many a rainworm or insect.

The "Chalet 3" bird feeder house is handmade from sustainable FSC® wood and even the product label is from sustainably recycled PP5. The "Chalet 3" feeding house can be used standing up or hanging from the robust rope. The nice thing about the collection is that the different mixtures also attract different bird groups!

Nice as a gift or gift set for the garden, balcony or terrace.