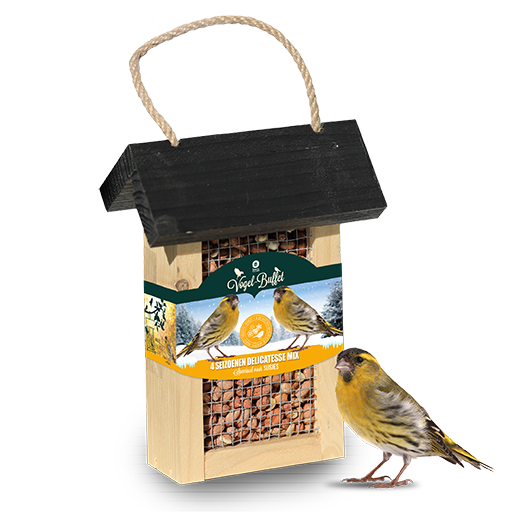 bird-buffet picknick
Bird-Buffet Picknick Siskins and Nuthatches
Article number 18038511
Packaging format 20 cm x 14,5 cm x 8 cm

The Siskin:
How does the siskin propagate?
Mating already takes place in winter. The male often sings from the top of a fir and an ecstatic, butterfly-like courtship flight after. The nest is usually made high in a conifer, often in overhanging outer branches.

How do you get to see the siskin?
Spotting Siskins is best done between October and March. Then you can (big) groups dangling acrobatically from alder plugs. Forests, parks and Gardens with alder and birch have a good chance of siskin

The "Picknick" bird feeder is handmade from sustainable FSC® wood and even the product label is from sustainably recycled PP5. The "Picknick" feeding house can be used standing up or hanging on the robust rope. The nice thing about the collection is that the different mixtures also attract different bird groups!

Nice as a gift or gift set for the garden, balcony or terrace.